Description of the linear tracking turntable 2.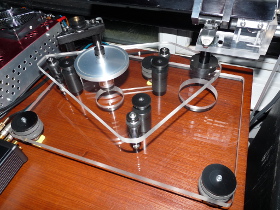 Posted on by Ben Lamb -

I decided to build a suspended version of the first linear tracking turntable. It is a skeleton design instead of the usual boxed in unit which gives greater neutrality as it avoids the boxed in resonances. Stacked platters are used in this prototype in order to have enough mass in the platters to balance the suspension. The same AC motor and drive system is used in the first version which allows precise calibration of the turntable speed and electronic speed switching. The suspended design does a good job of isolating motor noise from the platter and arm. A version of the large thrustplate bearing is used which allows thrustplates to be changed and uses an O ring oil seal. The bearing is a spit Delrin lined design with a Silicon Nitride ball on the end of the shaft. All in all it is a great sounding turntable but it is a bit fussy to use for my liking, I prefer absolute simplicity with no barriers in the way of getting a record on for listening. It is however a good point of reference and one of the best sounding players that I have heard.

Linear tracker 2 in action.